Optimize your production of viscous liquids with RheoStream®
Are you manufacturing viscous liquids?
RheoStream® is a rheometer for real-time in-process measurement of viscosity, shear-thinning, and apparent yield stress in viscous, non-Newtonian liquids like paint, ink, detergent, soap, skincare, adhesive, sauces, and dressings.
RheoStream® will help you
Increase first-time-right
Improve quality
Save resources, save time, save capacity

Fluidan wins award in European Venture Contest Finals.After a tight competition with over 1200 European startups, Fluidan qualified for the finals that took place in Düsseldorf on December 11, 2018. In the - very broad - cleantech category, covering anything from...

With a rapidly growing interest in rheology control, Fluidan adds to the staff. We are looking for an Application Specialist - experienced in process technology and/or rheology. Would you like to make a difference to process industries in Europe and beyond? We work...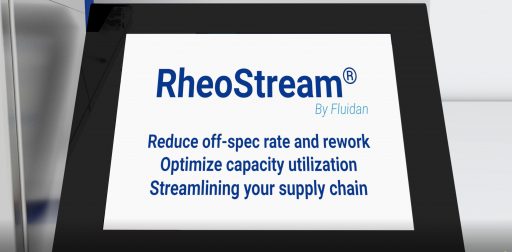 In the link below you can see a 3D-animation of how RheoStream® works. The video was made by communication and graphics and 3D specialist Frederik Isak Petersen, and shows how the sample flows in RheoStream. Link: https://youtu.be/5Wtxjl4T2ew

Contact
Fridolin Okkels, CTO
+45 2537 8686
Anders L. Østergård, CEO
+45 2374 5664
Email: write an email
Address
Diplomvej 381
2800 Kgs. Lyngby
Denmark