Manufacturers working with dip coating are often faced with the challenge of securing a consistent and even layer of the coating, which in turn relies completely on the rheology of the coating material. When RheoStream® is used for continuous monitoring of the coating rheology, the material can be constantly adjusted to secure the coating quality and avoid waste of finished product.
The data shown below are taken from one day at a factory trial with RheoStream®.
The factory manufactures a solid product, consisting of a substrate (carrier) material coated with a pigment containing solvent based paint-like coating. The final product quality relies critically on the coating, which in turn relies critically on the rheology.
Today, the factory takes out samples manually for control in a nearby lab, using a rotary viscometer to determine plastic viscosity and yield stress, using a Bingham model approximation.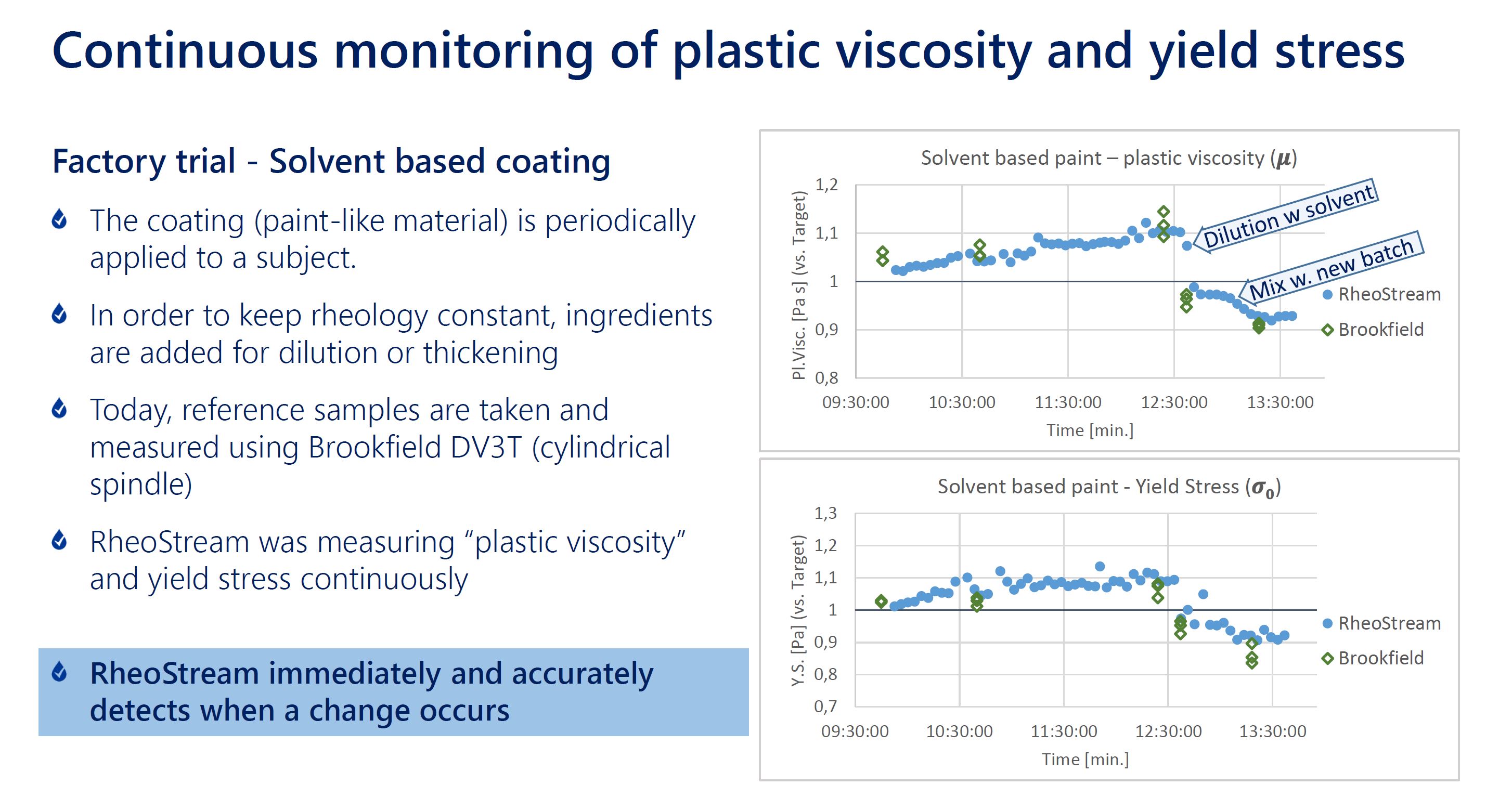 RheoStream was installed on a recirculation loop on the working tank – the data shown in the figure shows tracking of the plastic viscosity and the yield stress.  By introducing RheoStream for continuous monitoring it will be possible to control the paint rheology continuously.  This reduces a significant workload in manually sampling and analyzing (in an ATEX zone) and it reduces the amount of rework and waste significantly.

Fluidan ApS
Company register: DK36392355
Authorized representatives: Anders L. Østergård (CEO) or Fridolin Okkels (CTO) and Steen Hoff (Chairman of Board)
Contact
Anders L. Østergård, CEO
+45 2374 5664
Fridolin Okkels, CTO
+45 2537 8686
Email: write an email
Address
Diplomvej 381
2800 Kgs. Lyngby
Denmark