RheoStream® – Rheology on track
RheoStream is a rheometer for real time in-process measurement of viscosity, shear thinning and apparent yield stress in viscous non-Newtonian liquids.
Whether your final product is a thick liquid or maybe even a solid, managing your liquids' rheology will ensure that the liquid is adjusted to meet your production needs.
When consumers use products, their perception, and the functionality rely on properly balanced rheology – will a paint run, does the cleaner cling to the surface, and will the lotion hydrate the skin? RheoStream helps secure a consistent quality.
Get Brochure
Download our 2-page brochure.
The only process rheometer for non-Newtonian fluids.
Learn more about the benefits of RheoStream®?
In-Process Rheometer
RheoStream is installed directly in the production process, right next to the liquid to be measured. It pulls out frequent samples that are handled and analyzed in the instrument. The instrument supplies data to the factory control system – then you have the data for manual or automated control of the process.
Replacing Today's Common Practices
RheoStream is a new alternative replacing the standard practices for measuring rheology/viscosity: 
Inline viscometers providing real-time data on viscosity

Manual in-plant rheometers providing empirical rheology values

Laboratory rheometers providing a full set of rheology data
These practices either provide you with in-accurate and insufficient data for non-Newtonian liquids or provide you with off-line data that cannot be used for automated adjustments.
RheoStream will provide you with a full set of real-time rheology data directly in the control system.  
With real-time measurements, it is possible to assess and adjust a manufacturing process to keep it on track by adding thickener, diluting with solvent, or other corrective procedures.
The Benefits Of Using RheoStream®
By implementing RheoStream you get the opportunity to:
IMPROVE QUALITY
Take the human factor out of rheology QC and get superior precision. You may narrow your specification limits and still get it right every time.
STREAMLINE YOUR VALUE CHAIN 
Produce every batch and every ton produced to meet the specification, so that the output is predictable, allowing for an optimized and streamlined supply chain.
INCREASE FIRST-TIME-RIGHT

& Reduce off-spec and rework.
Regulate your process continuously or adjust your batch automatically, ensuring that the processed liquids comply with specification limits
SMART MANUFACTURING
Implement Industry 4.0 by adding real-time information about rheology to your understanding of process performance, both on the shop floor and in digital models. 
OPTIMIZE CAPACITY AND RESOURCE UTILIZATION
Control your process. You will not need to rework off-spec material – this frees up capacity and enables higher throughput.
The measures provided by RheoStream®
RheoStream measures viscosity, shear-thinning, and apparent yield stress in non-Newtonian liquids.
The output data from RheoStream:
Reports viscosity (or shear stress) at 3 pre-selected shear rates
Optionally, calculates and report alternative viscosity model parameters (Bingham, Herschel-Bulkley, Cassons) giving you parameters like apparent yield stress, consistency index etc.
Displays the temperature at which the measurement takes place.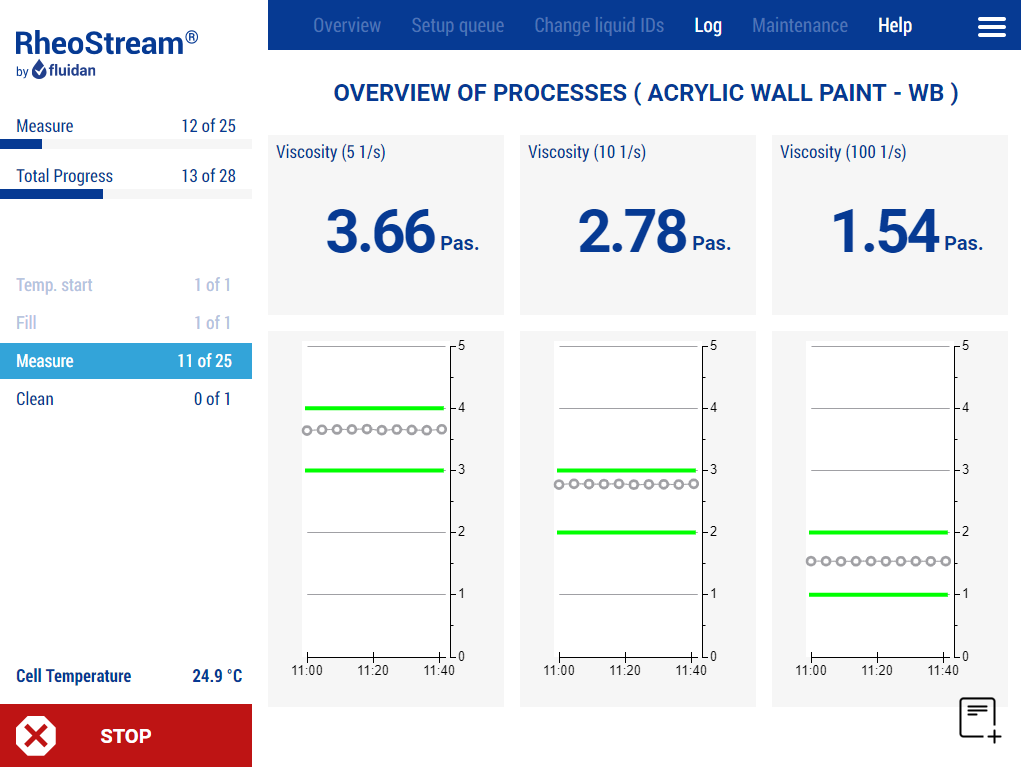 Does RheoStream® work with my liquids?
RheoStream works for liquids with particles smaller than 200µm (few particles up to 500µm are permitted).
The sample coming in may be 10-60°C, and is cooled/heated to the desired measuring temperature.
Samples are pumped into the RheoStream and the temperature is accurately controlled to your pre-set temperature (15-60°C).
RheoStream covers a shear rate range of 1.5-1000 [1/s] and measures in the viscosity range shown in the Limit Plot, right – for instance at 10 [1/s] the viscosity range is 40-40,000 Pa∙s
The viscosity range depends on the shear rate of the measurement – within the "application area" indicated in the picture to the right.
Above the upper solid red line, the samples are too thick, limited by the internal parts
Below the lower red line, the samples are too thin, reaching the signal/noise limit of the instruments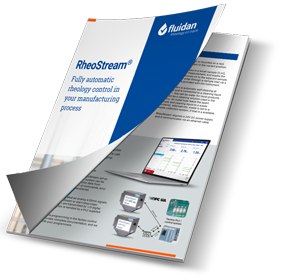 Read all about RheoStream
Download our brochure to uncover precision's secrets!
Discover how our revolutionary product works, installation tips, interfaces, unrivalled precision, and detailed specifications.
How can I know if my liquid is within the application area?
First, the samples are characterized using a laboratory rheometer. The viscosity curves are then plotted in the Limit Plot (see right).
In this example, we see that:
Samples are shear thinning
The shear rate range of 1.5-1000 [1/s] is measurable for paint 1
Paint 2 is limited to maximum shear rate of 1-200 [1/s]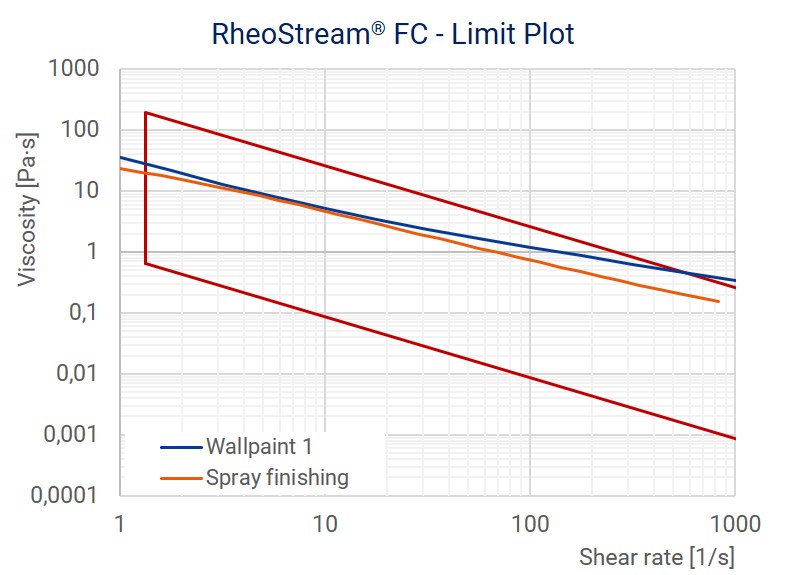 Fluidan ApS
Company register: DK36392355
Authorized representatives: Anders L. Østergård (CEO) or Fridolin Okkels (CTO) and Steen Hoff (Chairman of Board)
Contact
Anders L. Østergård, CEO
+45 2374 5664
Fridolin Okkels, CTO
+45 2537 8686
Email: write an email
Address
Diplomvej 381
2800 Kgs. Lyngby
Denmark