Optimize your production of viscous liquids with RheoStream®
Are you manufacturing viscous liquids?
RheoStream® is a process rheometer for real-time measurement of viscosity, shear-thinning, and apparent yield stress in manufacture of viscous, non-Newtonian liquids like paint, ink, detergent, soap, skincare, adhesive, sauces, and dressings.
RheoStream® will help you
Increase first-time-right
Improve quality
Save resources, save time, save capacity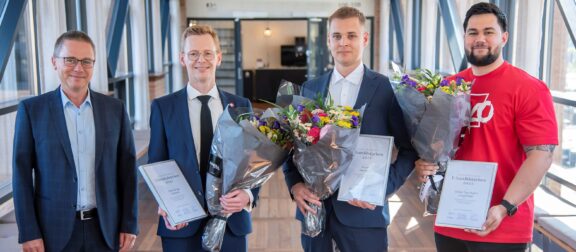 (Pictures from the award ceremony by Henrik Frydkjær) The Elektrofondet under the Danish Society of Engineers gives out prizes every year to people who have made promising efforts in the electrotechnical/electronic field.Last week, the impressive work of Rune Mark...
RheoStream® – Trusted by industry leading companies

Fluidan ApS
Company register: DK36392355
Authorized representatives: Anders L. Østergård (CEO) or Fridolin Okkels (CTO) and Steen Hoff (Chairman of Board)
Contact
Anders L. Østergård, CEO
+45 2374 5664
Fridolin Okkels, CTO
+45 2537 8686
Email: write an email
Address
Diplomvej 381
2800 Kgs. Lyngby
Denmark