Fluidan's Unique Technology
RheoStream® is a fully automated capillary rheometer in a box!
A precision pump in the instrument controls the sample flow rate as it passes through the capillary.
RheoStream measures the viscosity profile typically every 1-2 minutes: A sample automatically flows into the instrument, and it is being measured in a sequence of steps. When done, a new sample is taken – every sample is 5 ml.
Unlike any other process rheometer RheoStream takes full control of the sample. That gives important benefits:
The sample temperature is controlled to the desired level
The viscosity is measured across a controlled range of shear rates
The output from RheoStream is the viscosity at 3 shear rates. Or you can get the parameters from a model of the viscosity curve (Bingham, Casson, etc.).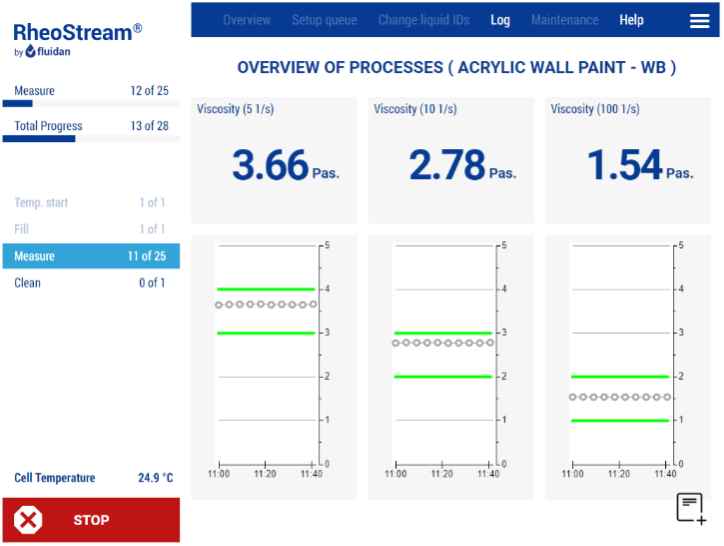 This is How RheoStream® Works
By following the numbers on the picture (right), you can follow the progress of a measurement:
① A sample is drawn from process equipment
② The syringe pump controls flow rates in pulses ③
④ A preheater/cooler ensures a steady temperature of the measurement
⑤ The liquid flows through a thin tube (capillary)
⑥ A pressure difference (ΔP) is measured for each pulse
⑦ The instrument computer converts pressure signals into viscosity values
⑧  Displays results on the user interface
⑨ Spent sample is collected as waste
This video illustrates the liquid flow in the instrument: https://fluidan.com/3d-video-shows-how-rheostreamworks/

Fluidan ApS
Company register: DK36392355
Authorized representatives: Anders L. Østergård (CEO) or Fridolin Okkels (CTO) and Steen Hoff (Chairman of Board)
Contact
Anders L. Østergård, CEO
+45 2374 5664
Fridolin Okkels, CTO
+45 2537 8686
Email: write an email
Address
Diplomvej 381
2800 Kgs. Lyngby
Denmark