Specifications and installation requirements
Specification – RheoStream® VE and FC
Stainless steel cabinets total dimension (H x W x D) = 600 x 400 x 220 mm, not including protruding, heat sinks, valves and connectors.
Total dimension – see sketch below
Weight: Up to 38 kg (not including mounting rack)
2. Sample and liquid flows
See below for connection and mounting requirements
a) Sample is automatically pumped into RheoStream for analysis.
b) OPTIONAL: Sample is automatically filtered (200µm) before entering measuring system. Sample Filter can be back-flushed, when instructed (must be programmed by FLUIDAN based on requirements). Sample Filter can be replaced when instrument is not in operation.
c) Maximum 10 ml of Sample is spent for each measurement.
d) Cleaning Liquid is pumped automatically, when the RheoStream program instructs a cleaning cycle.
e) Spent Sample and spent Cleaning Liquid may be
i.   Discarded into drain/sewer
ii.  Discarded into waste container
iii. Pumped back into main product stream
3. Operation and interface
a) Instrument is operated via
i.  PC or touchscreen located near RheoStream or in control room
ii. Customer MES/SCADA system – measurements are continuously read out via system. The communication protocol must be further specified and is not covered by this document.
b) Communication is via Ethernet, RJ45.
c) RheoStream raw data and measurement results are made available to Fluian via internet.
Customer is responsible for design of control and data screens in MES/SCADA system, based on recommendations from Fluidan.
a) The instrument is calibrated for Customer specific liquid type and will be applicable for liquids, which do not significantly deviate from this.
b) The calibration is made by FLUIDAN against reference measurements made on a reference viscometer/rheometer.
c) A control and re-calibration of the specific instrument is provided, after installation of the instrument. This requires that at least 5 different samples (representing a typical variation in the plant) are analyzed in parallel on a reference instrument (by Customer or by FLUIDAN) and on RheoStream.
5. Additional calibration
a) In case Customer introduces different formulations FLUIDAN can provide new calibrations under service agreement.
a) During normal operation (not cleaning, changing filter or running Calibration Check) the instrument conducts a new analysis and provides data output every max. 1-5 minutes (depends on the liquid and rheology). A slower frequency can be selected.
b) Temperature of measurement (15-60°C) can be selected – time to adjust to a change is 15 min-1 hour. Temperature is maintained ±0.2°C.
c) The data output includes:
RheoStream FC®:
Viscometry (flow curve, 3-8 points of shear stress or viscosity vs. shear rate)
Key parameters of models:
Power law: n, K
Bingham, Hershel-Bulkley: Yield stress (σ0), etc.
RheoStream VE®, same as RheoStream FC and additionally:
Viscoelasticity:
G' , G'' , G*, tan(δ)
d) Liquid temperature inside the measuring system is also read out.
7. Accuracy and Precision*

a) Viscometry: Accuracy (vs. reference method) < 5% CV * ; Precision < 5% CV
b) Yield Stress: Accuracy (vs. reference method) < 5-10% CV * ; Precision < 10% CV
c) G' and G'': Accuracy (vs. reference method) < 5-10% CV * ; Precision < 10% CV
* Accuracy and Precision is still being optimized
a) Cleaning cycles takes 3-15 minutes, during which no measurements are made.
b) Cleaning is initated by the RheoStream program at times or frequencies to be specified.
c) Up to 500 ml of Cleaning Liquid is used for each cleaning cycle.
9. Calibration Check
OPTIONAL

a) RheoStream can be programmed to perform a Calibration Check at predetermined intervals or times.
b) The Calibration Check will provide a warning, if the calibration is outside a predetermined interval (e.g.±2%).
a) Programs for startup, filling, measurement, cleaning, filter cleaning, calibration check and shut down are provided by Fluidan.
b) On request, additional program versions are supplied in the testing period and later under service agreement.
a) Prior to installation Fluidan will conduct a Factory Approval Test (FAT) to verify the full function of the instrument.
Installation requirements
Stainless steel cabinets total dimension (H x W x D) = 600 x 400 x 220 mm, not including protruding purge box, heat sinks, valves and connectors.
Total dimension – see sketch below
Weight: Up to 38 kg (not including mounting rack)
10 – 40°C, however no more than 10°C above desired temperature of measurement
110-240V AC, 600W
50/60 Hz
(Flow diagram can be provided upon request – making the explanation below easier to review)
Sample supply:
Pipe with Sample stream is fitted with an outlet consisting of a plug with a 1/8 NPT thread. If particles bigger than 1000µm can occur in the sample, an internal 1000µm strainer must be fitted.
The fluid gauge pressure measured at the outlet must be at least 1 bar and not more than 4 bar.
Cleaning liquid:
Jerry can or similar with minimum 10l capacity, positioned in minimum same height as RheoStream, connecting tube maximum 1m.  Can be placed on the mounting rack provided (see item 6 below).  Alternatively, cleaning liquid may be supplied from Customer CIP system.
The Spent Sample and Spent Cleaning Liquid is
i.            Discarded into drain/sewer
ii.            Discarded into waste container
iii.            Pumped back into main product stream
FLUIDAN provides the needed shot-off valves, one-way valve and connecting tubes.
Calibration Check Liquid (OPTIONAL):
Calibration oil, supplied by FLUIDAN. 500-1000 ml bottle placed in lower cabinet.
Spend Calibration Check Liquid is collected in waste bottle in lower cabinet or discarded same way as spent Sample and Cleaning Liquid .
Must be mounted on vibration free* rack with inlet connector no more than 200 mm from the outlet connector from the product pipe (with the liquid to be measured).
The Mounting Rack is supplied by Fluidan, and bolted into the floor. The Rack is mounted by the Costumer, according to Fluidan Drawings.
*If the floor not is free of vibrations, the vibrations must be further investigated, and the correct dampers must be placed.
Daily: Replacement of cleaning liquid container (may be less frequent for Sample liquids that require less cleaning).
Weekly or Monthly (OPTIONAL): Replacement of Calibration Check Liquid bottle and emptying of Waste bottle (frequency depends on frequency of calibration checks – with daily calibration checks the maintenance is weekly)
Certification and standards
CE certified (May 2018) according to
EU machinery directive (MD  –  2006/42/EC)
EMC directive (2014/30/EU)
Low Voltage Directive (LVD – 2014/35/EU)
RoHS directive (2011/65/EU)
ATEX (zone 2) option will be available Q4 2018
Fluidan offers RheoStream® on a trial basis, or on a long-term subscription basis.
Please inquire for more information.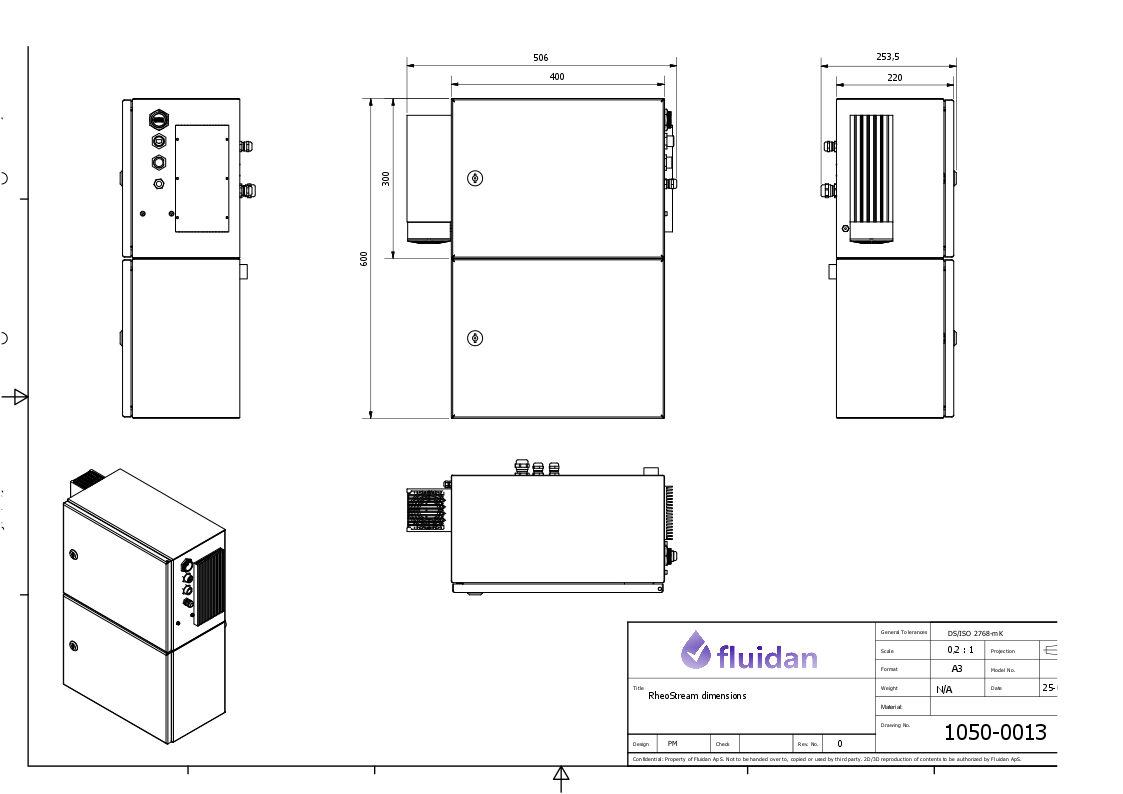 Contact
Fridolin Okkels, CTO
+45 2537 8686
Anders L. Østergård, CEO
+45 2374 5664
Email: write an email
Address
Diplomvej 381
2800 Kgs. Lyngby
Denmark