Optimize your production of viscous liquids with RheoStream®
Are you manufacturing viscous liquids?
RheoStream® is a process rheometer for real-time measurement of viscosity, shear-thinning, and apparent yield stress in manufacture of viscous, non-Newtonian liquids like paint, ink, detergent, soap, skincare, adhesive, sauces, and dressings.
RheoStream® will help you
Increase first-time-right
Improve quality
Save resources, save time, save capacity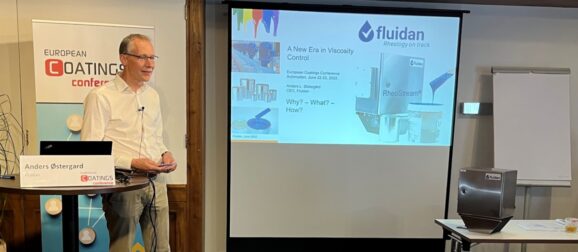 Automate or Die The keynote at European Coatings Conference Automation this week (Wolfram Keller) left no doubts: Automate or die! When demands for productivity, flexibility and sustainability are increasing, the old-school way of doing product development and...
RheoStream® – Trusted by industry leading companies

Fluidan ApS
Company register: DK36392355
Authorized representatives: Anders L. Østergård (CEO) or Fridolin Okkels (CTO) and Steen Hoff (Chairman of Board)
Contact
Anders L. Østergård, CEO
+45 2374 5664
Fridolin Okkels, CTO
+45 2537 8686
Email: write an email
Address
Diplomvej 381
2800 Kgs. Lyngby
Denmark