Optimize production flow in manufacture of viscous liquids
Are you manufacturing viscous liquids?
Paint, skin care, detergent, yoghurt, sauces,…
RheoStream® will help you
reduce off-spec rate and rework
optimize capacity utilization
streamlining your supply chain
RheoStream® – in-process real time rheology measurement
RheoStream® is a rheometer for real time in-process measurement of shear thinning, apparent yield stress and viscoelasticity in viscous, non-Newtonian liquids like paint, detergent, soap, skin care, sauces and dressings.
RheoStream® is designed to be implemented directly on the production line, making it possible to control and keep the production process on track.
By implementing RheoStream® you get the opportunity to:
Reduce off-spec rate and rework – with real time rheology information the production process can be continuously regulated, ensuring that the processed liquids comply with specification limits.
Optimize capacity and resource utilization – a controlled process reduces the need for reworking off-spec material and frees up capacity and enables a larger throughput.
Streamline your value chain – when every batch and every ton produced meets the specification the output is predictable, allowing for an optimized and streamlined supply chain.
Gather data for big data analysis / smart manufacturing / Industry 4.0 – with so many parameters to adjust in a process and so few real insights into the actual properties of the liquid inside the stainless steel it is challenging to establish a model-based understanding of process performance. Adding rheology to the picture enhances the understanding of process performance, both on the shop floor and in digital models.

Fluidan wins award in European Venture Contest Finals.After a tight competition with over 1200 European startups, Fluidan qualified for the finals that took place in Düsseldorf on December 11, 2018. In the - very broad - cleantech category, covering anything from...

With a rapidly growing interest in rheology control, Fluidan adds to the staff. We are looking for an Application Specialist - experienced in process technology and/or rheology. Would you like to make a difference to process industries in Europe and beyond? We work...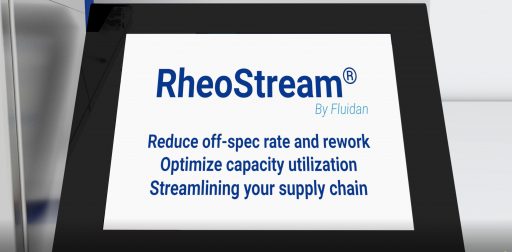 In the link below you can see a 3D-animation of how RheoStream® works. The video was made by communication and graphics and 3D specialist Frederik Isak Petersen, and shows how the sample flows in RheoStream. Link: https://youtu.be/5Wtxjl4T2ew

Contact
Fridolin Okkels, CTO
+45 2537 8686
Anders L. Østergård, CEO
+45 2374 5664
Email: write an email
Address
Diplomvej 381
2800 Kgs. Lyngby
Denmark